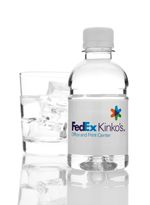 Is your company hosting a sporting event or participating in an outdoor fair this summer? As you prepare for your big event, keep in mind that your participants will be spending hours in the heat and sun. Over-heating and exhaustion can cause some of them to leave early, so why not come prepared with custom label bottled water?
Personalized bottled water is the perfect hand-out for events like these. Our graphic designers can help you transform your company s logo into a beautiful and distinct custom label that will market your brand to everyone who takes a sip. Our labels are printed on a synthetic material using a digital print press, so they won t run or come off even if stored in ice.
What better way to build customer loyalty than to offer them a delicious bottle of cold spring water on a hot day?
Our spring water is safe, delicious, and refreshing and our bottles come in three sizes that are sure to match your needs. We offer 8oz., 12oz., and 16.9oz bottles, so no matter what kind of event you re hosting we re sure to offer the perfect size.
Our water bottles are also 100% recyclable, which makes them easy to dispose of and environmentally friendly.
Personalized water bottles are a smart way to blend convenience and marketing. All you have to do is place your order online and in 6-10 business days (depending on shipping) your custom label bottled water is at your door, ready to go. We also offer a priority service for next-day turnaround if you need your water quickly.
If you d like to sample some of our water, please contact us and we d be happy to ship you a sample of our 8oz. water bottle. We re enthusiastic about the quality of our product and know that once you see it for yourself, you will be too.