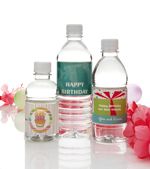 What's not to love about a birthday party? Whether you're nine or ninety, a birthday party is sure to be an awesome time worth looking forward to. If you're planning a birthday party for a friend or relative, your head is sure to be spinning with sorting out guest lists, balloons, cake, and other important details.
A great way to add a personalized touch to any birthday party is with customized labels. When even the beverages are customized just for the birthday boy or girl, it adds a nice touch. We offer a playful and fun selection of personalized water bottle labels, personalized wine labels, and personalized beer labels, each of which would be a thoughtful and fun birthday party favor. Each label can be customized to include the birthday celebrant's name, age, or birth date and we have a wide selection to choose from so it's easy to find a label that matches your party's theme.
If you have something different in mind for your label, we are happy to help you with designing a truly custom label. Many of our customers design custom labels using photos of the birthday boy or girl and these always turn out beautifully. Whether the picture is current or from a day gone by, your loved one is sure to smile when they see this creative and personalized birthday party favor.
If you would like to learn more about our labels or would like to request a sample of a specific template, please don't hesitate to contact us and we'll be happy to help!