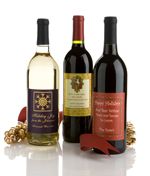 Here in the Pacific Northwest, the only thing cheering us up now that the weather's gone cold is the fact that Christmas is right around the corner. For the most part, Christmas is a wonderful time to relax with family, exchange gifts, and eat way too much.
For some people, though, coming up with gift ideas that won't break the bank can be stressful enough to cast a shadow over the whole holiday. Don't worry, though, we put our heads together to come up with our top 10 cheap Christmas gift ideas. Hopefully these ideas will inspire you and help get you into the holiday mood!
Create a home-made gift and give it a touch of class with a personalized label. One of our favorite gifts is a mason jar of hot cocoa mix, complete with marshmallows. Simply put the preparation instructions, and your family's name, on one of our personalized wine labels and adhere to the jar. It's an instant thoughtful gift that costs less than $5 to prepare!
Give your favorite beer lover a gift they'll remember! Find out what his/her favorite kind of beer is, and then personalize the beer with personalized beer labels. It's a thoughtful gift you know they'll enjoy, and they are sure to appreciate your gift's personalized touch.
If you are attending any holiday parties this year, bring along a bottle of personalized wine to give the hostess. The hostess will appreciate the wine and have no trouble figuring out where it came from.
Those of you who are crafty will have a lot of fun with personalized labels this year. Our labels come in a variety of sizes that look great on many container sizes. Our customers have put our labels on their homemade soap, cider, olive oil, and honey. You can easily turn your hobby into a Christmas gift with a personalized label and tasteful packaging.
Personalized bottles of cider, beer, and soda make great stocking stuffers. Kids will love a personalized bottle of Jones Soda, while grown-ups will get a kick out of personalized beer or hard cider.
Assembling a gift basket is a fun way to turn lots of small gifts into one amazing gift. Our favorite gift basket is wine themed, simply place a personalized bottle of wine, a corkscrew, two wine glasses, and a bar of chocolate into a basket, tie it up with ribbon, and voila! Instant romantic gift basket!
If you have a wine or beer brewer in your family, consider giving him or her personalized labels for the next batch. Your home brewer will appreciate your supportive and thoughtful gift.
What do you get for the oenophile (wine lover) who has everything? Wine, of course! A great gift for the wine lover who has it all is a personalized bottle of their favorite wine. With a little sleuthing beforehand, you can give them a gift that will make their day.
Many families distribute family photos every Christmas. A new twist on this is to put your family photo on a personalized label. We can help you turn your family portrait into a custom water, beer, or wine label that your friends and family will love.
Share your home brew with friends and loved ones! Your home vintage makes a great gift, simply personalize it with a custom label and you're good to go. We offer a wide range of templates and can also help you create a new label from scratch.
If you have any other ideas for cheap holiday gifts, please feel free to share in the comments section!