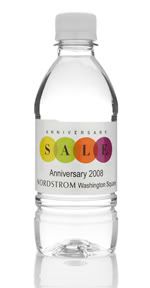 Brand marketing is an important part of modern business. The power of your image is due, in large part, to the efficacy of your branding. Where you place your brand, how you design your logo, and the reputation you establish for yourself in your industry are all important aspects that contribute to how your company is branded.
It s extremely important to exercise control over how your brand is communicated to the world. How and where you choose to market your brand has a strong correlation to how your company is perceived. This perception will influence whether customers or other companies choose to do business with you.
An easy and cost-effective way to expand your brand s influence is to use custom label bottled water as a promotional item. When you put your logo or company information on a bottle of spring water, you ve transformed that bottle of water into a walking billboard that will associate your brand with something refreshing.
Our personalized water bottle labels enable you to showcase your logo and information with style and professional graphics. This is the perfect way to provide potential clients with a promotional item they ll actually use and appreciate. Our top-quality labels, fast turnaround time, and competitive pricing make harnessing the power of private label bottled water easy and cost-effective.
If you have any questions, or would like to request a sample, please don t hesitate to give us a call. We look forward to helping you learn how to make custom label bottled water work for you and your company.