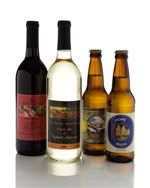 Alas, Halloween is behind us and the holidays are literally right around the corner. In fact, Thanksgiving is in almost four weeks and Christmas is next month! Pretty soon, we'll see Christmas lights going up, menorahs in window sills, and egg nog specials at coffee stands!
Unfortunately for many of us, the economy is still an issue that threatens to make holiday shopping an altogether grim experience this year. Not to worry, though, because we're always on the lookout for ways to help you give personalized gifts while sacrificing neither quality nor your bank account. Regardless of the economic situation, personalized wine and custom beer continue to be our favorite gift ideas.
Even though alcohol can get really expensive, there are ways to find it cheap and at a discount. A great site that delivers wine at a steep discount is The Accidental Wine Company. This company finds wines with labels that have been stained or with outdated labels and sells those wines to the public for as much as 40% off.
This wine is perfect to give for the holidays, because the wine labels are already damaged and will be easy to remove. Just order your wine, remove the damaged labels, apply our completely self-adhesive labels, and you're done. You have a personalized bottle of wine that you can give to friends and family as a custom holiday gift!
Another great place to find cheap beer and wine is at your grocery store or Costco. Oftentimes, these stores will give you a discount on wine if you buy multiple mismatched bottles.
Even if the economy has made it necessary for you to slap a budget on your holiday shopping, don't let that stop you from giving out personalized bottles of beer and wine. These gifts are thoughtful, tasteful, and sure to be appreciated.
As an added bonus, we're offering free shipping on all labels only orders. Simply enter Labels08 as your promo code and your holiday gifts just got a lot cheaper!