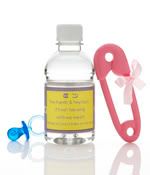 The beginning of a baby shower can sometimes be a bit awkward if not everyone knows one another beforehand. A great way to break the ice and get people mingling is to get everyone involved in a baby shower game.
Baby shower games are fun, sometimes hilarious, and always sure to bring a smile to the mom-to-be's face. There is a huge range of games to play at baby showers, ranging from silly to sweet to shocking. The best way to prepare games for a shower is to keep in mind the people you're inviting and the mom-to-be's personality.
For example, if you're planning a shower for a lady who's suffered morning sickness for the last eight months, playing the "dirty diaper game" (wherein the hostess melts a chocolate bar in a diaper and then asks the guests to guess what brand of candy it is) may not go over well. Likewise, if the invitees are mostly older family members, like grandparents, you may want to plan on games that aren't very physically challenging. If you'd like more ideas for baby shower games, you might find this site helpful.
Whichever games you choose, always make sure to prepare favors for your guests to take home. Baby shower favors are a vital part of planning a successful shower and a great way to thank your guests for making the day special.
We highly recommend handing out personalized baby shower favors that will help your guests remember they were part of a very special event for a loved one. Our personalized water bottle labels are ideal, easy to make baby shower favors that won't explode your budget.
Our label templates range from gender-specific to gender-neutral and display bottles, bears, butterflies, and even dragonflies! All the wording on our labels is completely customizable, which means that you can showcase the mom and dad-to-be's name, the baby's name, and even the date of the shower. We offer a quick turnaround time, so even if you're planning a last-minute shower you're good to go.
Our labels are waterproof, tear resistant, and feature photo-quality printing and completely self-adhesive backing. Creating personalized baby shower favors has never been so easy or cute!