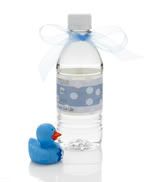 Teddy bears, bibs, bottles, and booties. If you're pregnant or planning a baby shower for someone, chances are you've been seeing a lot of these lately. After all, baby showers are all about showering the new mother with gifts and love, right?
When planning a baby shower, it's important to remember to include a gift for guests that will help them remember the baby and mother-to-be. If you're looking for ideas for baby shower favors, you might want to consider using personalized water bottle labels.
We have a big selection of baby shower labels, some gender-specific and others gender-neutral, that are customizable and adorable. You can add the mother and father's name, the baby's name, and the date of the shower and turn your baby shower favors into a beautiful keepsake.
Take a look at our baby shower water labels and you'll see that not only are our products high-quality, they are beautiful and designed to make a big splash at your baby shower. Simply order the labels, buy bottled water (or any bottled beverage) and apply our self-adhesive labels and your baby shower favors are ready to go!
We also offer personalized water bottles that take the stress off you entirely. Just place your order for bottled water and your completed baby shower favors will be delivered to your door. Our bottled water is delicious, safe, and refreshing and this is a great option for the hostess who already has her hands full with other shower details!
If you have any questions about our baby shower labels or would like a free sample, just let us know and we'll be happy to assist you.