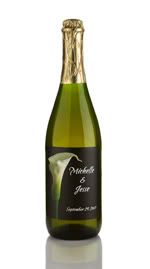 Picking out the perfect wedding favor is often the last thing that brides worry about when planning their weddings. Once the dress is picked out, the bridesmaids' shoes are coordinated, and the cake is iced, the inevitable question pops up: What am I going to do for wedding favors?
One of my favorite things about wedding favors is that they're the perfect way to thank your guests for being part of your special day. The nice thing about planning a wedding noawdays is that it's easy, and often fun, to find favors that perfectly match your wedding theme.
If budget is a concern, a tasteful and classy way to navigate your way around that is to use bottles of wine as your wedding favors. Custom wedding wine labels are a beautiful way to turn your wedding libations into beautiful wedding day keepsakes.
Our wedding wine bottle labels are full-color, fully synthetic (meaning you can keep your wine chilled and the labels won't get ruined,) and come in a beautiful variety of styles and themes that are sure to add a touch of creative class to your celebration. If you have a specific style or would like to coordinate your labels with your wedding invitations, we have a team of skilled graphic designers who are happy to help you create a truly custom label.
One example of a way that brides have used our labels in their weddings is as table numbers for seating arrangements. By placing a bottle of wine in the center of the table with a personalized label that displays the table number, you've found the perfect way to help guests find their seat and add to the table decor.
Our wine labels are fully self-adhesive and will fit easily onto any glass bottle. Whether you're serving champagne or sparkling apple cider, your guests are sure to appreciate your thoughtfulness and creativity.