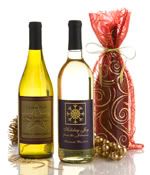 The holidays are coming up. Shocking but true, the evidence is everywhere. Starbucks has just started offering the pumpkin spice latte again, stores are putting up Halloween displays, and as the weather chills and the leaves turn colors, people everywhere are starting to prepare for the cold, the parties, the holidays.
Along with pumpkins, turkey, and tinsel, the holidays bring with them gifts. Gifts for friends, gifts for family, gifts for colleagues, gifts for business associates. If you've already started thinking over your gifts shopping this year, it might be worth your while to start thinking about giving personalized bottles of wine.
Personalized bottles of wine are a great way to give a thoughtful, personalized gift that won't break your bank account. All you have to do is order your personalized wine labels, buy some bottles of wine, remove the old wine labels, and apply ours. Tie a bow around the neck of the bottle and call it a night!
All our wine label templates have completely customizable wording, so you can express any sentiment you like. Whether you're saying "Thanks for making this a great year for our company!" or "Happy holidays from our family to yours!" personalized wine labels will help you get your message across.