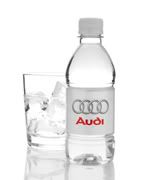 Quality: it's a small word with a big meaning. When you're looking for quality, you're looking for a combination of value and excellence. The value comes from a reasonable price and the excellence is a direct result of intelligent manufacturing.
The ability to find quality relies on knowing what to look for. If you're in the market for custom label bottled water, personalized water bottle labels, personalized wine labels, or personalized beer labels, here are some things to keep in mind when shopping:
Label material: The best label material is synthetic. This material is strong, water-proof, and capable of being printed with photo-quality images. Beware of paper-based labels. Paper-based labels don't hold up under ice, tear easily, and don't tend to display high-resolution printing as well.
Bottled water: Not all water bottlers are responsible to the earth or to their consumers. Research where the water you're interested in purchasing is bottled and make sure it is federally tested at least once per year and privately tested on a regular basis.
Print quality: Not all printers are created equal. The best printers in the industry are digital and capable of reproducing photo-like quality on labels. Some custom label companies use cheap inkjet printers that produce very blurry and unprofessional-looking labels.
Turn-around time: Labels take time to produce, so make sure whatever company you order with can accomodate your order on time. Look for a company with a next-day turnaround if you're in a rush to get your labels.
We here at Bottle Your Brand have spent years learning about this industry and have perfected our labelling techniques and practices. We use only the finest quality label material, bottled water, and digital print presses to create stunning, high-quality customized labels that our customers love.
We offer fast turn-around times for our products and a next-day turnaround for a reasonable fee. If you have any questions about our products and services, feel free to contact us and we'll be happy to answer your questions.