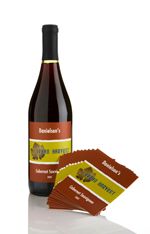 Many people say that the best wine comes from Italy or the Napa Valley, but that's just because they haven't tasted yours yet! Homemade wine, either made with homegrown or store-bought grapes, is quickly gaining popularity as a fun hobby.
In addition to being an enjoyable hobby, homemade wine makes a delightful gift as well. Many of our customers give homemade bottles of wine away as gifts for holidays, birthdays, and weddings and the results are always a huge success.
Thanks to the Internet, which boasts a tremendous number of resources for the homemade wine enthusiast, making your own wine is easier than ever. In fact, according to this article all you need is a few simple household items!
Of course, once you've successfully finished aging your wine, the next step is invariably to label your brand-new vintage. This is where we come in. We've helped countless vintners design and personalize wine labels that reflect the care and consideration they put into their wines.
We offer a large selection of beautiful wine labels that look great with both red and white wines. The text on our labels is fully customizable, so you can include the year the wine was brewed, the name of your winery, the variety of wine, or whatever you like.
If your winery has a logo we are happy to help you turn that logo into truly custom wine labels. Our talented team of graphic designers have years of experience with turning logos into labels and will be happy to walk you through the process.
Whether you're a true oenophile or a part-time grape-crusher, making your own wine is an accomplishment worth celebrating. Share the "fruits" of your labor with friends and family by labeling your wine with personalized wine bottle labels!