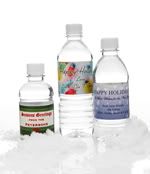 With all the doom and gloom out there in the economic world, it's hard to get fired up about the upcoming holiday season. Financial woes, employment insecurity, and rampant foreclosures have the ability to overshadow even the most joyful holiday plans.
Or do they?
Just because our nation is going through an economic rough patch doesn't mean your holiday season should have to suffer. The key this year will be to find a way to celebrate with friends and family in a fun, festive, and frugal way. There are many ways to celebrate the holidays without breaking your bank account. Here are some ideas for gifts:
Apply personalized beer labels to bottles of beer and use them for stocking stuffers for the beer lovers in your life.
Hand out personalized water bottles at your next holiday party. This takes care of two party essentials all at once: refreshments and favors! We offer water bottles with the labels already applied or a labels-only option.
Give your favorite couple a personalized bottle of wine for a holiday gift. You can take care of two people with the same gift, and they're sure to look forward to enjoying the wine together.
Thanks to our wide variety of holiday labels, now you have the freedom to give personalized holiday gifts to friends and loved ones without spending a fortune. Our labels are top-quality and cost $1 or less/apiece. Everyone is sure to appreciate your thoughtful, customized gift.