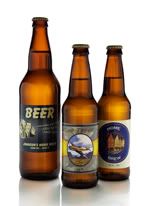 Beer. It's cold, it's refreshing, it's awesome. There's nothing like a cold beer at the end of a long day, a short day, or pretty much any day, really.
Beer is also one of the best bachelor party favors. What better way to send your buddy off into the land of marital bliss than with a bachelor party full of beer?
That's where we come in. Sure you can give the groom-to-be a bottle of beer with a generic label on it but where's the fun in that? There's nothing embarassing or funny about the king of all beers. If you add a personalized label to the beer, then you've got a hilarious keepsake that will remind your friend of his last night out as a free man until well after the champagne at his wedding goes flat.
We offer a great selection of custom beer labels that can quickly and easily transform your bachelor party supplies into creative and funny bachelor party favors that are sure to be a hit. We have funny beer labels, classic beer labels, and one that is perfect for a bachelor weekend in Vegas.
If you have a different design in mind, we also have beer label templates on our site so you can design your own. Now's the perfect opportunity to whip out that embarassing photo from college or childhood and turn it into a label that will make him cringe. Our graphic designers are happy to help if you run into questions or roadblocks, so creating custom beer labels has never been so easy.
Help make his bachelor party a memorable experience with a custom beer label he'll never forget!